Wraeclast to prastary kontynent pełen tajemnic, na który nasza postać została zesłana z wyspy Oriath.
Nie wszystkie obszary posiadają punkt nawigacyjny (waypoint)! Można to sprawdzić na mapie świata (pojawia się po wciśnięciu klawisza U):
puste kółko – brak punktu nawigacyjnego;
mała kropka w kółku – obszar posiada punkt nawigacyjny, ale gracz go nie aktywował;
duża kropka – aktywny punkt nawigacyjny.
Legenda:
– Punkt nawigacyjny
– Trial of Ascendancy
– Obozowisko
W nawiasach podano obszary usunięte z gry lub poprzednie nazwy nowych.
AKT 1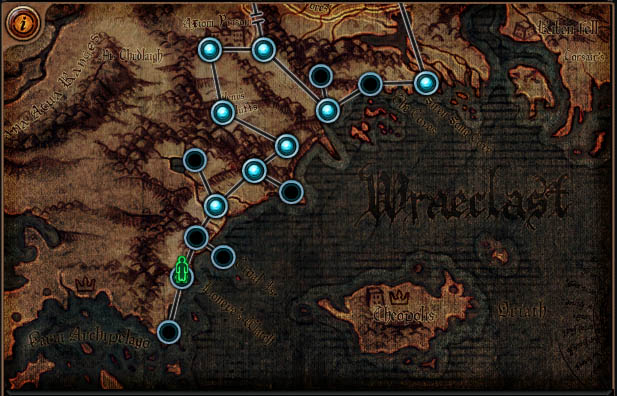 AKT 2
The Southern Forest
The Forest Encampment
The Old Fields
The Den
The Crossroads
The Fellshrine Ruins
The Crypt Level 1
The Crypt Level 2
The Broken Bridge
The Chamber of Sins Level 1
The Chamber of Sins Level 2
The Riverways
The Western Forest
The Weaver's Chambers
The Wetlands
The Vaal Ruins
The Northern Forest
The Dread Thicket
The Caverns
The Ancient Pyramid
AKT 3
The City of Sarn
The Sarn Encampment
The Slums
The Crematorium
The Sewers
The Marketplace
The Catacombs
The Battlefront
The Solaris Temple Level 1
The Solaris Temple Level 2
The Eternal Laboratory
The Docks
The Ebony Barracks
The Lunaris Temple Level 1
The Lunaris Temple Level 2
The Imperial Gardens
The Hedge Maze
The Library
The Archives
The Sceptre of God
The Upper Sceptre of God
AKT 4
The Aqueduct
Highgate
The Dried Lake
The Mines Level 1
The Mines Level 2
The Crystal Veins
Kaom's Dream
Kaom's Stronghold
Daresso's Dream
The Grand Arena
The Belly of the Beast Level 1
The Belly of the Beast Level 2
The Harvest
The Ascent
AKT 5
The Slave Pens
Overseer's Tower
The Control Blocks
Oriath Square
The Templar Courts
The Chamber of Innocence
The Torched Courts
The Ruined Square
The Ossuary
The Reliquary
The Cathedral Rooftop
AKT 6
Lioneye's Watch
The Twilight Strand
The Coast
The Tidal Island
The Mud Flats
The Karui Fortress
The Ridge
The Lower Prison
Shavronne's Tower
Prisoner's Gate
The Western Forest
The Riverways
The Wetlands
The Southern Forest
The Cavern of Anger
The Beacon
The Brine King's Reef
AKT 7
The Bridge Encampment
The Broken Bridge
The Crossroads
The Fellshrine Ruins
The Crypt
The Chamber of Sins Level 1
Maligaro's Sanctum
The Chamber of Sins Level 2
The Den
The Ashen Fields
The Northern Forest
The Dread Thicket
The Causeway
The Vaal City
The Temple of Decay Level 1
The Temple of Decay Level 2
AKT 8
The Sarn Ramparts
The Sarn Encampment
The Toxic Conduits
Doedre's Cesspool
The Grand Promenade
The Bath House
The High Gardens
The Ebony Barracks
The Lunaris Temple Level 1
The Lunaris Temple Level 2
The Quay
The Grain Gate
The Imperial Fields
The Solaris Temple Level 1
The Solaris Temple Level 2
The Battlefront
The Harbour Bridge
AKT 9
The Blood Aqueduct
Highgate
The Descent
The Vastiri Desert
The Oasis
The Foothills
The Boiling Lake
The Tunnel
The Quarry
The Refinery
The Belly of the Beast
The Rotting Core
AKT 10
Oriath Docks
The Cathedral Rooftop
The Ravaged Square
The Reliquary
The Ossuary
The Torched Courts
The Desecrated Chambers
The Canals
The Feeding Trough
EPILOG
Oriath
The Templar Laboratory